Guide To Dubai Tourism
Dubai, one of the most preferred travel destinations of tourists.
You will be surprised to know that in 1990's Dubai was a small cluster of settlements and now its among the fastest growing cities of the world!
There are many interesting facts about Dubai that many people do not know, like "Is Dubai A Country"?
To answer that and many more interesting facts that will amaze you about Dubai.
And yes, I have covered Dubai Scam as well so Let's get started…
Above articles may also help you find more discounts on Hotel Room Booking!
Table of Contents
Is Dubai A Country?
No, Dubai is not a country. In fact, Dubai is not even the capital of any country!!
What is Dubai?
Dubai is an amazing city, located in the UAE (United Arab Emirates) or simply called Emirates.
It is one of the 7 Emirates of a country named UAE
UAE is in the Middle East, part of both Africa and the Asian Continent!
The abundant Petroleum deposits found in mid 1990's put UAE among the rich nations list, making it the third richest county in the world!
Dubai Travel
Dubai is well connected via Air, Sea and Road.You can arrive at Dubai by directly flying into the city, landing at one of its International airport.
Check out Best Flights To Dubai for some excellent Dubai flight deals.
You can also get a sea cruise to Dubai or drive in from neighboring emirates.
Dubai Visa
You will need a visa to enter UAE (visa is issued for visiting country, not city) and getting a tourist visa is very easy.
Depending on your nationality and type of Visa, you may get Visa on arrival. Check your eligibility of Visa on arrival in the link below.
Check Eligibility for Visa On Arrival for Dubai
You can apply online or via authorized tourist booking site or Airlines and Hotels can also apply on your behalf.
You can get a visa in around 5-10 days.
Documents needed for your visa is the first and last page of your valid passport and a passport size color photograph.
You can either get a single entry tourist visa that is valid for one month or a multi entry visa that is valid for 5years.
Dubai Currency
Dubai currency or rather UAE currency is Dirham.
1USD=3.67 Dirham
Best Time to Visit Dubai
The best time to visit Dubai is between November to March, the weather is very pleasant around this time of year.
After this time, you will find unbearable heat and humidity.
Dubai Sightseeing
You can either hire a private cab or use public transport for sightseeing in Dubai.
Most of the tourist attractions are accessible by metro, so if you have your hotel stay near to a metro station you will save a lot of commute time.
You can also use public bus for your last mile.
Dubai metro has two lines, green & red that covers almost all the parts of Dubai.
The metro train frequency is almost every 7 minutes.
Do keep in mind while boarding the metro, Each train has 5 carriages,
-1st one being the Gold or first class cabin,
-2nd cabin is reserved for women's and kids
-all cabins after these are for other passengers.
To travel in Metro and bus, you will have to buy a prepaid card, its named Nol (Arabic word for fare) Card.
Every time you enter or exit metro station, you need to swipe in/out.
Things to do in Dubai
There are many tourist attractions in this sea and desert city, following is my recommended list for places to visit in Dubai:
1. Dubai Mall
Spread across 12 million square feet, Dubai Mall is the largest shopping mall in the world.
It hosts the annual Dubai shopping festival that is very popular across the world.
You can enjoy underwater aquarium that is a paid attraction but you can always watch it from outside without paying for it.
There is an artificial ice rink as well in this mall.
The next attraction around the Dubai Mall is the Musical Fountain. The show starts at 7pm and is every 30 minutes after that.
2. Burj Khalifa
Burj Khalifa is the tallest building in the world. You can pay and go on the 128th floor or top most floor of the building for the awesome view of Dubai.
Don't miss to view Burj Khalifa from the musical fountain side, it will be one of your most memorable view.
Evening time is recommended to visit so that you can see the mesmerizing sunset from the top.
Pre-book to avoid disappointment.
3. Dolphin show
This is a good tourist attraction, you can give it a miss if you have seen similar show elsewhere.
4. Global village
This is world's largest children shopping and entertainment location. You will have to buy a ticket to enter this attraction.
This place displays 90 countries culture at one location. You can enjoy those countries food and buy famous items of those countries.
5. Desert Safari
Don't miss this roller coaster ride of Dubai desert. You can book this online or from your hotel reception.
This safari will pick you up from your hotel, take you on the adventurous ride in an SUV.
Dance show and dinner is part of this safari.
6. Marina walk
This is the place where you may sight many celebrities.
Surrounded by sky scrappers, restaurants and bars this is a good place to spend your evening.
7. Jameira Beach Resort (JBR)
This is the place you can see the worlds largest ferrous wheel , the Dubai Eye.
8. Palm Jumeirah Island
You can take the monorail to reach this manmade island.
Yes, you read it correct. This island is man made by claiming land from sea. Construction of this Palm shape island is an engineering miracle in itself!
9. Miracle Garden
This is world's largest flower garden. You will find hundreds of variety of of flowers in one place.
10. Atlantis hotel
You can view this magnificent Hotel on Jumeirah Island. The stay here is very costly and it has its own private water sports, beaches etc.
Book stay at Atlantis and get instant discount!
11. Dubai Frame
This is the largest frame in the world. The 150 meter high building have a glass walk on the top.
This is another place from where you can enjoy the city view if you missed it from Burj Khalifa
12. Shopping
Dubai is famous for its shopping experience, you can see it at the Dubai airport as well as other shopping areas.
Dubai HopOn HopOff (HoHo)bus
The BigBus company operate the Dubai HoHo bus.
The open roof top bus will take you to most of the attractions in Dubai and its fare include free entry to many of the attractions.
Dubai Time
Dubai time zone is (UTC/GST+4hrs) Abu Dhabi, Muscat.
GST stands for Gulf Standard Time.
Dubai Hotels
Dubai is a rich Emirate and boasts of the best and most luxurious hotels of the world.
You name it and you will find it in Dubai.
You can also find some budget hotels if you are looking for one, there are AirBnB options also available.
Click To Get Best Hotel Stay Deals in Dubai
Dubai Weather
The proximity to Tropic of Cancer makes Dubai weather hot and as its a port city, its humid as well.
During winters, the mercury dips to 25C (77F) and summers are 38C + (100F+)!
The summer season starts in April and last till October.
Dubai Map
Courtesy: TravelWorldMap
The map above shows the geographical location of Dubai on the world map, for your ease to locate it.
It is well connected by all the International airports.
Dubai Underwater Hotel
The underwater hotel in Dubai, aptly named as Atlantis, is rated amongst the best under water hotels in the world.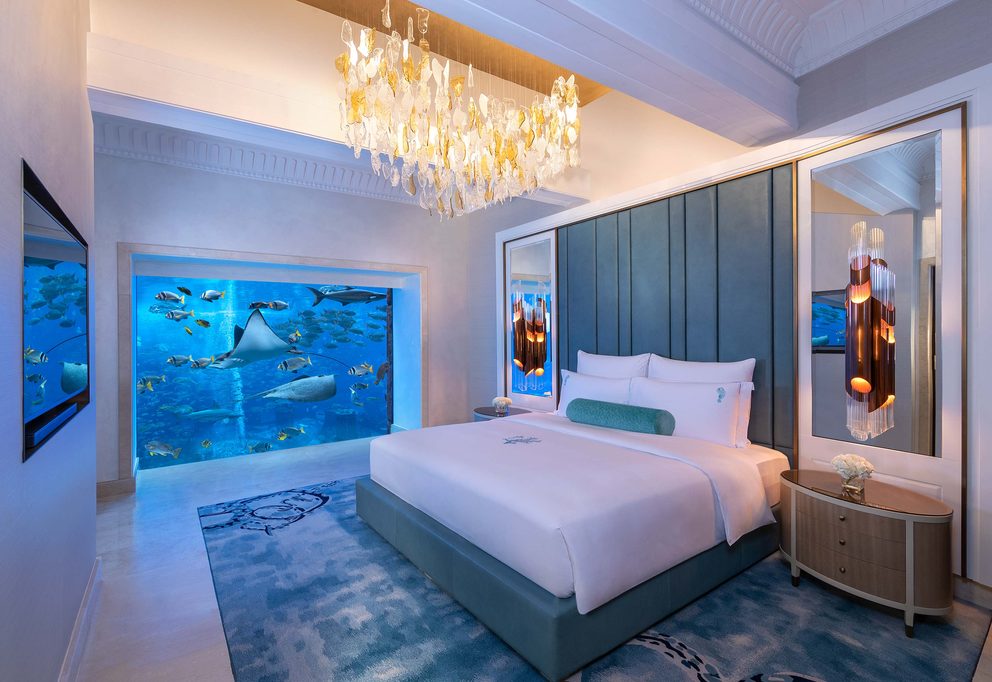 Book stay at Atlantis and get instant discount!
You can see hundreds of sea animals from your any of your rooms!!
Dubai Creek Tower
Dubai creek tower construction started with the goal to make it the highest man made structure in the world, yes- higher than Burj Khalifa!!
The height of this tower is rumored to be around 1300 meters!!
This was planned to be completed in the year 2022 but due to Covid, the construction work stopped.
Dubai Airport
There are two international airports in Dubai:
Dubai International Airport (DXB or OMDB)
Dubai World Central (DWC or OMDW)
DXB is among the most busiest airports of the world.
Dubai Scam
Any tourist place has some scam or other, so don't be surprised to read this one.
While you are window shopping or just roaming around shopping area, someone will approach you with a suggestion.
He will look like tourist, behave like one but will try to give you a solution to your problem like:
They will spot your problem area like fat or have a tummy or bald or some visible scar. The list can be long.
Bottom line is, they will tell you they themselves had that problem and used some herbs to get rid of the flab.
The cost they will mention will sound affordable to you and then they will guide you to the place from where you can buy the herbs.
So far, so good…
Now comes the upselling part and rather than selling it will be like coaxing you to buy other related stuff
eg. they will suggest you some oil that will help you get better results and before you react, they will open the oil, put your herbs in it.
Consider it sold friend…and the price will be much more this time!!
So, if anyone friendly smiling face approach you with a solution to your problem, just ignore!
FAQ:
Is Dubai Safe for tourists?
Dubai is one of the most visited places of the world. It is among the richest nations and politically stable. 
So yes, Dubai is safe for tourists from all round the world.
Conclusion:
Dubai is one of the most famous tourist destinations during winter. The shopping experience and the rich life style of Dubai attracts millions of visitors each year.
Read more interesting posts on Places To Visit In Asia